Rival Knights
Knights Game – Joust Other Knights for Fame and Glory
Jousting is a combat sport that was very popular in the old days. It was considered a true test of a knight's bravery and courage and winning a jousting tournament was seen as a great achievement. If you want to experience the same thrill and excitement then this knights game is a must-have for you. Rival Knights is a thrilling game in which you get to become a knight and defeat your rivals in a jousting tournament to be crowned the champion. Your aim is simply to make your opponent fell off his horse by targeting your lance on the weak part of his armor. Although a fun game to play, it is incredibly intrusive and requires access to your personal information.
Rival Knights combines intuitive controls and breathtaking graphics with intense gameplay to provide you with a thoroughly enjoyable jousting game. Playing this knights game doesn't require much expertise. However, you need to time your movements properly if you want to be victorious. In a lot of ways, the controls of this game mirror those of a drag racing game. You have to tap on the screen at the exact time of the launch to get a head start. In order to gain the maximum speed of the horse, you need to time your spurs perfectly when the meter reaches a certain green area. For striking your opponent, you need to drag your finger on the screen's left and aim at the targeted area shown on your rival's body.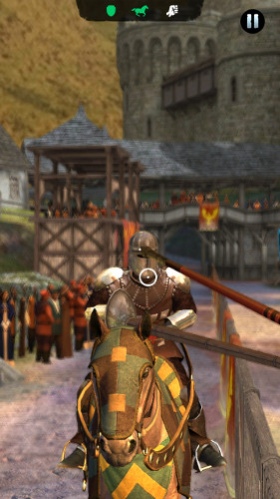 Achieving wins in this knights game is as much dependent on your jousting skills and timing as it is on your equipment. You have a ton of choices available to you from which you can select your jousting gear. From the mount to the lance to the armor and helm, there are various options on offer. Most of the jousting gear can be bought off using gold or gemstones. However, some of them can only be unlocked by qualifying to a new league. You can also enhance the power and durability of your equipment by making upgrades to it. These upgrades require spending gold, though. You have several types of boosts available to you too that can give you an edge over your opponents.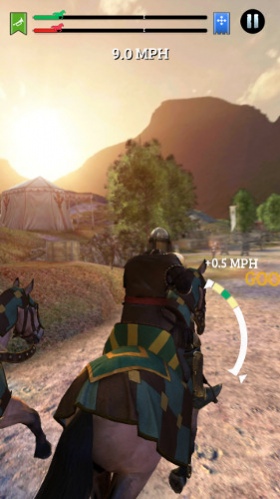 Rival Knights offers multiple game modes to you which don't let you get bored quickly. There are both single-player and multiplayer game modes that you can play in this knights game. In the single-player mode, you have the campaign, which is comprised of various leagues. You have to beat different knights in each of these leagues and slowly and gradually make your way to the top to win the King's chest. There is also a training mode on offer which helps you sharpen your jousting skills. In the multiplayer mode, you have events and the tournament that you can participate in. The tournament comprises of players from all over the world and requires you to beat them in battle in order to win.
Features:
Multiple game modes
Campaign mode comprising of various leagues
Several different knights to fight in each league
Sharpen your jousting skills in the training mode
Online tournament mode for fighting players from all over the world
A wide range of jousting equipment to choose from
Option available to upgrade your equipment
Various boosts on offer to give you the edge
Take part in online events and win great prizes
Conclusion:
Rival Knights is a gaming app which is designed for people who are fans of jousting and love playing action-packed combat games. It allows them to joust with other knights in a number of challenging leagues and try to knock them off their horses to earn both fame and glory. It is an exciting knights game but its intrusive nature makes it unsuitable for privacy-conscious people.
---
Add a review
Tell us your experience with
Rival Knights
RELATED PROGRAMS
Our Recommendations
---
---
---
---